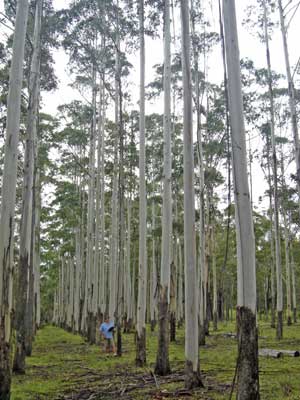 Alex Lindsay provides professional forestry advice to tree growers in tropical Australia.  Alex's goal is to help people who want to grow trees for timber to achieve maximum profitability.
Alex advises investors seeking to learn about forestry opportunities, land owners planning to plant trees, and growers who have plantations already established.  His clients include private individuals, companies, consultants, government agencies and universities.
With extensive operational experience and local knowledge, Alex can help new growers to save money, by avoiding failures, and limiting unnecessary expenditure.  He can advise what standards to expect from contractors, and likely financial costs.
To help existing growers realise the potential of their asset, Alex can perform detailed inventory and assessment, and determine silvicultural prescriptions to get the greatest value from the best trees.  He is often asked to inspect under-performing plantations, and can usually diagnose the cause and offer solutions.  Alex is also able to connect customers looking for Australian tropical timber with tree growers, and with owners of slabbed and sawn boards of local speciality timbers.
If you would like to find out how Alex can help you achieve maximum profitability growing trees in the tropics, visit the Services page.